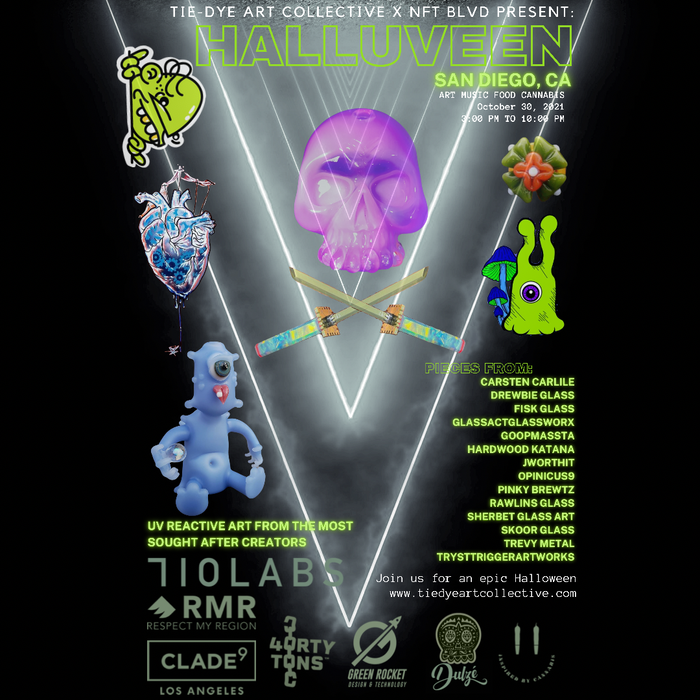 Tie Dye Art Collective & NFT BLVD Present: HALLUVEEN!
TDAC First annual Halluveen show!
Featuring pieces from some amazing glassblowers, painters and designers! You wont want to miss out on this opportunity to scoop a 1/1 treasure or hang out with the BEST C@nna vendors SD has to offer! 
VIP will have early access starting at 3PM PST and GA will open at 4(:20)PM PST
GA admission access to the FREE giveaway and will take home plenty of awesome goodies from our sponsors! (>$25 value)
VIP admission comes with a limited edition TDAC Moodmat, VIP entry Goodiebag (supplied by our sponsors) and a SKOOR GLASS UV Terp Slurper Accessory! Along with all GA perks (>$100)
Available artwork will go to VIPs in the order that they purchased tickets, and then will be available to GA afterwards. If you are not local to SD and still have interest in the show, we will we streaming from our discord server! VIPs can tune in from anywhere in the world!
Brought to you by: 40Tons, Clade9, Inspired by Cannabis & Respect My Region!
Pieces from:

Carsten Carlile
Drewbie Glass
Fisk Glass
Glassactglassworx
Goopmassta
Hardwood Katana
Jworthit
opinicus9
pinky brewtz
Rawlins Glass
Sherbet Glass Art
Skoor Glass
Trevy Metal
TrystTriggerArtworks
EMAIL WITH EVENT DETAILS WILL BE SENT OUT TO PURCHASERS!